Diversity drives the attraction of San Antonio's Eastside. Landmarks, venues and eateries reflect the city's rich Black American culture. From St. Paul Square, a bustling dining and entertainment district, to Dignowity Hill, a vintage residential suburb undergoing tremendous revitalization, the Eastside is filled with old treasures and new surprises.
May 14, 2020
We are excited to announce that River City Produce will be holding a Mobile Produce Market this coming Thursday, May 14, 2020 from 2 – 4 PM. Their mobile unit will be at the corner of Hackberry and Burnet St In Lockwood Park.
How to get produce:
• PRE-ORDER (Recommended) – Use the following link below to pre-order and pre-pay. When you arrive, simply give them your name and they will have your items packaged and ready for you to pick-up. Please note that you will need to pre-pay when you place the order.
LINK – https://orders.rivercityproduce.com
Username: dgnowity
Password: hill
(NOTE – Password and login are case sensitive. 2. There is not an I between the d ang g on the login)
• PURCHASE ON SITE: You will be able to purchase food the day of the event. Please make sure to ware a mask and practice social distancing.
For a full list of products and pricing, click the following link – https://mcusercontent.com/dbcf85daba15cf1891e39b6d3/images/8a9fc83b-b33b-4e7f-b9e1-bc9eae6c7d4d.jpg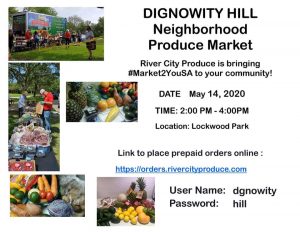 January 30, 2020
YOURBIKERGANG.COM
101 Pereida St.
San Antonio, TX 78210
The raddest ride in town. Join Your Biker Gang for a professional, electric minibike guided tour of Dignowity Hill San Antonio. See the sights, hit the brakes, and explore the city like never before. Tours take individuals, couples or groups on guided adventures around town in the coolest way possible…aboard an electric minibike! Easy to ride – and loads of fun! – book your next tour today for approximately 2 hours of ride-around adventures. Visit us online today to learn more.

September 23, 2019
ALAMO BEER COMPANY
415 Burnett St.
San Antonio,TX 78202
Alamo is the legendary Texas beer. Brewed in San Antonio, Texas, in the Dignowity Hill neighborhood, Alamo Beer Company began brewing in December 2014, marking the first time since the start of Prohibition that a beer named "Alamo" had been produced in the Alamo City. With seven beer offerings – think Golden Ale, Pale Ale, and Amber Lager to name a few – and a welcoming, family-friendly space, Alamo Beer Company brings people together for beer, food and fun on the city's eastside.