In 1962 Harold Miller and Archie Ladshaw saw the possibilities of a subdivision set among magnificent oak trees. They began to develop 200 acres into home sites, and people were attracted to the peaceful rural life, feeling that it was worth the commute. However, in 1972 both San Antonio and Schertz began annexing land bordering Garden Ridge. Paul Davis, the president of the HOA, realized that it would be a short time before they were swallowed up by the larger cities. Therefore, he urged the 239 residents to incorporate. As he said, "We want to establish our own destiny." And so it came about that Garden Ridge became an independent entity. While it may never be well-known outside Comal County, it is a close-knit community where people look out for each other.

May 11, 2020
There is a drive thru COVID19 live virus testing site that will be at Garden Ridge Community Center on Monday May 11th. If you feel you may be infected or are experiencing known symptoms, you must pre-register by calling 512 883 2400 or go to www.txcovidtest.org in order to be tested. The test is free, but you MUST pre-register to be tested.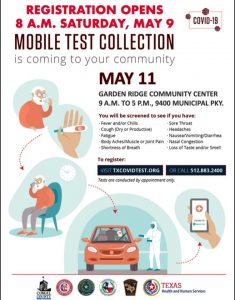 January 30, 2020
Bracken Cave
Protecting a Jewel in Texas

Bracken Cave is the summer home of more than 15 million Mexican free-tailed bats (Tadarida brasiliensis), making it the world's largest bat colony and one of the largest concentration of mammals on earth. The emergence of these millions of bats, as they spiral out of the cave at dusk for their nightly insect hunt, is an unforgettable sight. Located less than 20 miles from downtown San Antonio in Garden Ridge, the cave has come under increasing threat of urbanization. If not for the generous donations of BCI's members and friends, the cave and its remarkable bats likely would have been engulfed by subdivisions.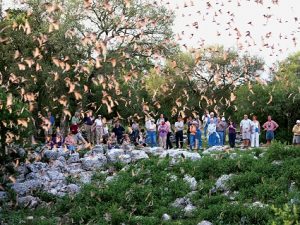 October 16, 2019
Paul Davis Park
The Paul Davis Park, named after former Garden Ridge Mayor Paul Davis, is located at 20685 Grass Creek, the intersection of Blue Bell and Grass Creek. Amenities at the park other than the beautiful oak trees and the tranquil setting are two covered pavilions, barbecue hut, picnic tables with grills, playground equipment, and a softball field. Many people rent the park amenities for birthday parties, reunions, social gatherings and weddings. For Paul Davis Park rental information, call City Hall at (210) 651-6831 for more information and availability. Paul Davis Park is host to the city's annual Fourth of July celebration. The celebration includes food and drinks, antique car show, activity booths and a parade along with lots of fun.