We have an extensive Medical Center with some of the nation's top rated doctors and hospitals. It is more than just a Medical Center though. Explore San Antonio's North Central neighborhood and you'll find upscale shops, family-friendly eateries and entertainment for adventurers of all ages. Complete with breathtaking Hill Country views, this neighborhood is hard to beat. La Cantera, a mixed-use development, offers upscale shopping, dining, lodging, golfing. Enjoy musical shows and hair-raising rides at Six Flags Fiesta Texas (don't miss the fireworks on the weekends!). Further east, Stone Oak boasts small and large shopping centers as far as the eye can see up Highway 281. Take a tour of Edward's Ridge Distillery to learn how their products are made and enjoy a craft cocktail. Eat, drink, shop and repeat.

October 16, 2019
Take a swing…indoors! at TopGolf San Antonio near the medical center. The city's premier golf entertainment complex, TopGolf boasts a 240-yard outfield with dartboard-like targets in the ground. The closer to the center or "bull's-eye" you get and the farther out you hit your microchipped balls, the more points you receive. After you tee off for a friendly competition with friends, top your evening off with shareable plates and beverages from the venue's full restaurant and bar offerings. Give it a shot today!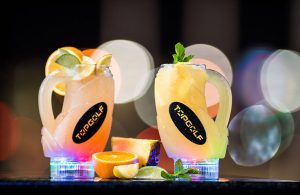 September 23, 2019
Brevity Coffee Co.
Coffee enthusiasts providing quality beverages at a face pace, and always served with a smile.
Established in 2019. Founded in August of 2019. We are here to provide the great people of San Antonio an
experience they won't forget and make a splash in the drive thru coffee scene.